Advertising is all about getting attention. And what better way to capture attention than to entertain? Here are a few examples of ways we've added a bit of quirk to a campaign to capture their target audience.
Eastland Trailer Parts
A small business with a low profile, we helped Eastland Trailer Parts develop their brand's local visibility through flyers and cinema advertising. As a new-ish small business, they didn't have a big budget so we developed a creative that would capture their market's attention without big budget photography and effects. We achieved this by developing characters that represented their target markets: fishermen and grey nomads, primarily male. By using humour in the form of a few in-jokes and a friendly, blokey voiceover we created a campaign that helped develop a brand personality that connected effectively with the target audiences. The campaign worked a treat - so much so, that we've continued the campaign and even added an extra character.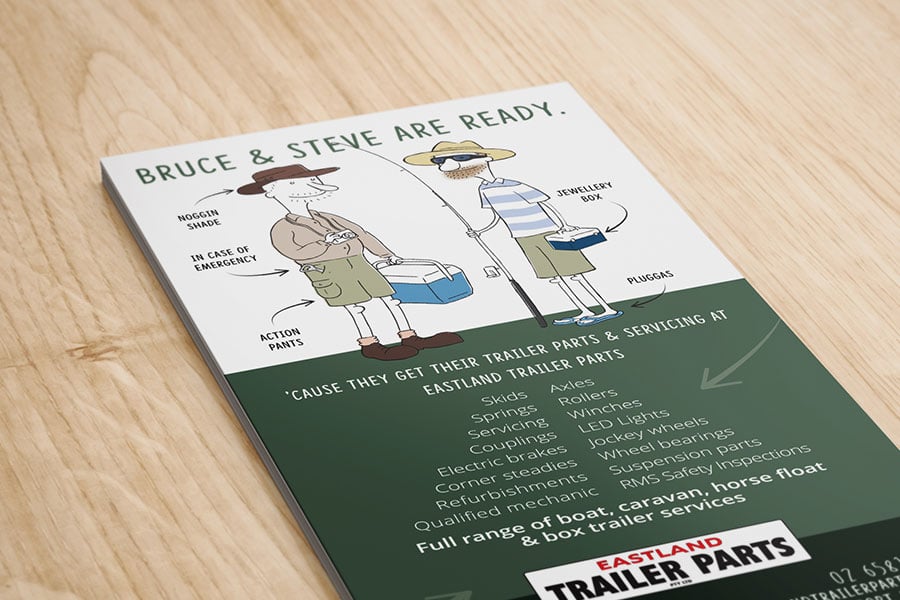 Tru Blu Catering
With a name like "Tru Blu Catering" you've got to go a bit quirky. Their choice of name already lends the brand a personality so they needed a radio campaign to match. We developed a delicious bush poetry style creative with some delightful bird sounds that would make Banjo Patterson hungry.
Laing + Simmons
Still one of our favourites, the commercial we made for Laing + Simmons is definitely a little quirky. We took the audience for a ride around a familiar game board so they could see themselves winning at the property game. Real estate is a competitive game so it was important to help the brand stand out and get noticed with high impact visuals.
Want to get your brand personality up to scratch?
Let's get quirky!